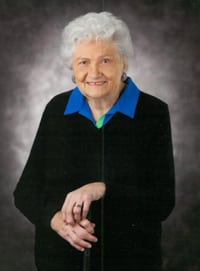 Lois Louise Payne
January 3, 1926 – January 27, 2020
Lois Louise Payne, 94, of Edmonton, Alberta, wife of the late Frank Payne, passed away peacefully on Monday, January 27, 2020.
Born January 3, 1926, in Nanton, Alberta, she was the 6th of 8 children of Carl and Florence Steen (Garbutt), but lived most of her adult life in Edmonton.
Lois was predeceased by her loving husband Frank, mother and father, brother Ralph, sisters Edna, Beulah, Margaret, Dorothy and Lorraine and step-daughter Terry.
She is survived by her son Gordon (Linda), granddaughter Amanda (Jason), grandson Daniel and great-granddaughter Maggie. She is also survived by her sister Elaine and numerous nieces, nephews and cousins.
We are especially grateful to those of you (dear friends) who travelled with her on her many hospital and Dr appointments.
Lois lived her life with love, trust, compassion, intuition, enthusiastic and was always competitive.
When she married Frank, he asked her to learn 2 things: Bridge and Golf, which she hated for the first couple of years. However, love for him made it possible to try harder. Along with Frank and alone the last 24 years, she nurtured many true friendships thru both activities.
Given Lois's passion for golf, her celebration of life will be held at Glendale G&CC, 12410 – 199 St NW, Edmonton, AB on Monday, February 24, 2020 at 2:00 PM.
In lieu of flowers, memorial contributions can be made to the Glendale G&CC Junior Golf Program at 12410-199th Street NW, Edmonton, AB T5V 1T8 or (780) 447-3529 ext. 221.