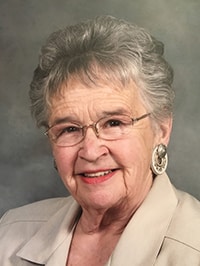 Lola ("Momsy") Maxine McNeil (nee, Harris)
Lola was born to Frank/Margaret Harris on September 10, 1932 in Edmonton, AB. She passed away, peacefully and gently, into the arms of her Savior, Jesus Christ, on April 19, 2018 at the Foothills Hospital ICU in Calgary, AB. All of her children and their spouses were by her side.
Lola was predeceased by: both of her parents, an older brother, Kenneth, in infancy, her first husband, Neil John McNeil and her eldest grandchild, Neil Derek McNeil.
Lola was the proud mom to five children: Neil/Mary McNeil, John/Diane McNeil, Cheryl/Brant Sim, Maury/Cheryl McNeil and Montgomery/Sharon McNeil. Lola also leaves behind the following grandchildren (great-grandchildren): Jessica/Tyson Colban (Mackenzie, Samuel, Jacob), Angela McNeil (Sadye, Bradley), Bonnie Miguez and David McNeil; Tyler/Christine Sim and Chelsea (Memphis) Sim; Rachel/Trevor O'Neil (Judah, Isaiah, Elisha), Rebekah/Travis Plamondon (Bruce, Charlie), Courtney McNeil and Adam McNeil; Jennifer/Travis Penner (Savannah, Gracie), Colin/Megan McNeil and Jordan/Cearra McNeil (Noah, Marshall).
A special, heartfelt thank-you goes out to Lola's close, personal friend, Mary Sullivan, of Kindersley, SK.
Lola will be fondly remembered for her love of family and friends, music, Scrabble, Bridge, breakfasts at A&W, the outdoors, gardening, community service and most importantly, her love for Christ.
Her family finds comfort in the knowledge that what death severs now, Christ sews back together with future resurrection.
Friends and family are welcome to join in a memorial service of celebration of Lola's life at North Pointe Community Church (14025-167 Ave, N.W.) in Edmonton, AB, Tuesday, April 24 @ 1:30 PM; reception to follow.
In lieu of flowers, please send donations to the Royal Alexander Hospital Foundation (https://www.royalalex.org).