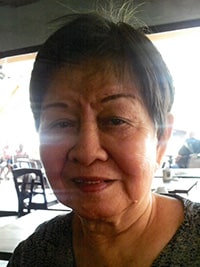 Loreta Rallos Patindol
Our beloved Mama Loreta joined her Creator before midnight on March 9, 2018
Mama lived a life full of positivity and energy. Even until the end, her mind was quick and sharp. She was always strong-willed and lived life according to her terms.
Thank you Mama for taking good care of us and being a strong presence in our lives. We love you and will miss you always. Rest in peace.
There will be a viewing followed by funeral rites at 10:00 AM on Saturday, March 17, 2018 at Trinity Funeral Home.
Loreta will be buried in the Philippines.