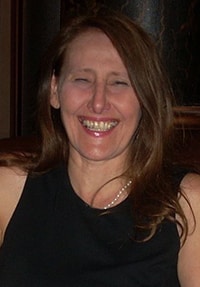 September 15,1956 - November 14, 2019
There is a layered story within all of us. Some people knew Lorna as a friend. Others shared her experience as a single mother. Lorna has a wonderful son, Alex, and she took such good care of him, looking after his every need. Today Alex is involved in creative dance and performs often throughout the city, the province and across Canada. He also volunteers at the Edmonton Art Gallery and works as an usher at the Winspear.
There are many ways to describe Lorna. She was scholarly, understanding, a deep thinker, thoughtful, and persistent. She had a great sense of humour which she passed on to her son, Alex and to her wide circle of friends. Lorna was an ESL teacher with Edmonton Catholic Schools and later did substitute teaching with Edmonton Public Schools. At the same time she was teaching, Lorna was a student at the University of Alberta. She completed her Masters in Educational Psychology and moved on to do her Doctorate in Elementary Education. Lorna's thesis explored the importance of dance and drama in students with various disabilities.
Throughout Lorna's studying and teaching career, she also took the opportunity to travel to conferences, where she presented various papers. She went to Japan, Scotland, Ireland, Belgium, Holland, England, Italy and the United States.
Lorna will be remembered by all those whose lives she touched for her strength, her positive and joyful view of the world, and her great sense of humour that is remembered by everyone she knew.
Celebration of Life
Saturday February 8, 2020 2:00PM
Trinity Funeral Home Chapel
10530 116 Street, Edmonton AB.