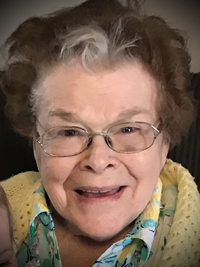 Lorna Mathison
It is with heavy hearts that we announce the passing of Lorna Mathison on August 10, 2020. She was born on Jan 1, 1928. Calgary, and she was proud of being an original Calgarian.
Lorna was loved and will be missed by her son Al (Joanne), grandsons; Michael (Lisa) Chris (Alison) and Colin (Erin), as well as 6 Great Grandchildren, (Parker, Emily, Elly, Warner, Charlie and Henry). She also leaves her sister Ruth (Lee).
She is predeceased by daughter Patti, and her son Don.
In her life along with being a great Mom and Grandmother, she had strength in her Christian faith and she loved sports. She was a swimming instructor, competitive curler and involved in lawn bowling.
She was also successful in Real Estate sales.
Throughout her life she was a social person and made and enjoyed many friends.
She was loved and will be missed.
A special Thank you to The Venta Long Term Care family for their compassion and support.