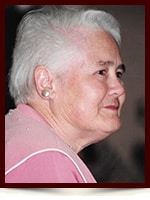 Lorna May (Fraser) Heath
 March 21, 1925 - March 2, 2016
Lorna passed away peacefully at her home in Laurier House with family at her side.   She leaves behind her husband Jerry of 67 years, children Sandra, Jim (Barb) and Bob; grandchildren, Lisa ( Rob) and Michael; and twin great-grandchildren, Fraser and Finley.
She was pre-deceased by her brothers Robert, Ronald, Allan and Norman, brothers- in-law Brian, Roy, Joe and sister-in-law Doreen. She is survived by her two sisters Jean and Betty, sister-in-law Elaine and many special nephews, nieces and their families.
Lorna was born in Pambrun, Saskatchewan and moved to Edmonton to take nursing. She completed her BSc at the Uof A in 1947 and was awarded the Gold medal for the highest marks in the province. Her remaining nursing class mates continue to be a very close group of special friends.
Lorna lived life with courage, compassion for others, a passion for living and found comfort in her strong faith. She was an excellent listener and a valued friend for many.
Special thanks to Drs. Fraser Armstrong and Allen Ausford; treasured caregivers and companions, Atsuko and Pam; and many special people at Laurier House who assisted her to be as independent as she was able to be, living a life of quality and dignity.
Celebration of Life
March 19, 2016 at 2:30 PM
St Paul's United Church
116 street and 76 Ave Edmonton
In lieu of flowers, memorial donations may be made to Endowed Research Chair in Aging and Quality of Life, Faculty of Nursing, University of Alberta, Visit uab.ca/nursingdonate or send donation (payable to UofA) to: Attn: Fiona Wilson,3-109 Edmonton Clinic Health Academy, Faculty of Nursing, University of Alberta, 11405 87 Ave, Edmonton, AB T6G 1C9, noting that your donation is in memory of Lorna Heath to support Endowed Research Chair in Aging and Quality of Life.