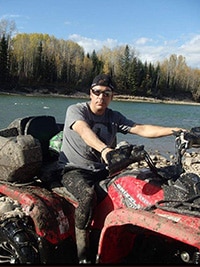 Lorne "Homer" Davidson
Lorne "Homer" Davidson, 45, loving Husband, Father, Son, Cousin, Uncle and friend passed away peacefully at 4:26 a.m. on Friday, March 2, 2018.
Lorne was born April 14, 1972, in Edmonton, AB where he was a lifelong area resident. He worked in the flooring industry his entire life, where he worked closely with many family members and friends.
He is survived and will be forever remembered by his wife and best friend Leslie, and his precious children, Johnathen, Dylan, Sam, Hope, father, Terry Broski and his brother Roger Loyie. He is preceded in death by his Mother, Sharon Broski and Sister, Sherry Davidson. Lorne will also be forever remembered by his numerous cousins, nieces, nephews and extended family and dear friends.
Lorne will be cremated and a celebration of his life will be held at Canora Hall, 10424- 152 Street in Edmonton, Alberta on Tuesday, March 13, 2018 at 2 p.m with a light lunch to follow. Those who knew him, know he would have preferred a more casual affair, please come dressed as you would have come to one of his backyard fires.
Contributions in memory of Lorne to help the family with expenses and cost can be made to a GoFundMe page in memory of Lorne. For those who cannot make the online donation, any other form of donation can be brought to the celebration of life. https://www.gofundme.com/in-memory-of-lorne-aka-homer.