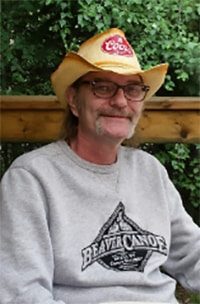 Lorne James Melnychuk
September 16, 1964 – July 24, 2019
It is with profound sadness that we announce the passing of Lorne James Melnychuk, age 54, of Edmonton, AB.  Lorne passed away peacefully at the Royal Alexandra Hospital with his wife by his side.
Lorne is survived by his devoted wife Alison, his loving mother Jean and caring sister Laverne.  He is predeceased by his father Mike Melnychuk and both sets of grandparents, Mary and Walter Sr. Stoyko and Mary and John Melnychuk.
Lorne will be mourned by many cousins, aunts, uncles and friends.
Cremation has taken place as per Lorne's wishes.  A Celebration of Life will be held at a later date.
In lieu of flowers or donations, we ask that you do something kind for a loved one or stranger.
"If there ever comes a day where we can't be together,
keep me in your heart. I'll stay there forever."
-           Winnie the Pooh