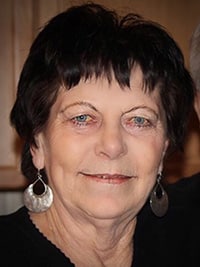 Lorraine Gail Affolter
Lorraine Gail Affolter, age 75 of Edmonton, Alberta, passed away on January 21, 2018 after a long battle with COPD and a short battle with cancer.  Finally free from her pain and suffering, she is now at peace.  She was a wonderful wife, mother and grandmother and will be deeply missed by all who were blessed to have known her.
Gail leaves behind her husband, Jim Affolter, two children, Shannon (Russ) Coulombe of Beaumont, Alberta and Aaron (Joanna) Affolter of Saint Albert, Alberta, as well as five grandchildren whom she loved dearly:   Jace, Brett, Anna, Kayla and Angela.
Gail was predeceased by her mother, Fern McDonell.  We take comfort in knowing that they are happily reunited and will be watching over their family together with love.
Interment, with Reverend Mike Lynch officiating, will take place at the Garden of Apostles, Evergreen Memorial Gardens at 11:30 a.m. on Saturday, January 27, 2018.  A Celebration of Life and luncheon will follow at 12:30 p.m. at the Delwood Community League, 7515 Delwood Road (approximately 135 Avenue and 74 Street) in Edmonton, Alberta.