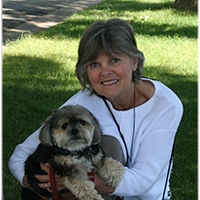 Lorraine Vera McFarlane
April 13, 1945
-
May 21, 2021
Beloved mother, grandmother, sister, daughter, and wife, Lorraine McFarlane's love of life didn't come to an end with her death. Lorraine passed away on May 21, 2021 at the age of 76, surrounded by loved ones, near and far, who will continue to honor her legacy by living their lives to the fullest.
The simplest pleasures in life brought great joy to Lorraine. Playing monopoly online with her granddaughters, meeting the grandson's girlfriends, powering through a Netflix series with her husband, having a conversation or meal with her children, keeping in touch with friends and family, and taking care of her dogs.
She had an uncanny ability to find beauty and happiness in even the littlest things in life. Her philosophy - "you can't change the direction of the wind ... but you can always adjust your sails."
She is survived by her loving husband Paul, her three children, Regan (Michelle), Ronda, and Rick (Sandra); brother, Harold; sister, Shirley; five beautiful grandchildren, Anthony, Lucas, Jaime, Jordan, Katelyn; special niece, Tracey; her dog Rooney, as well as extended family and numerous friends.
Lorraine was predeceased by her parents Kenneth and Vera Herd, sister Diane and brother Ken with whom she is reunited in heaven.
Forever in our hearts.
There will be no service at Lorraine's request. In memory of our beautiful Lorraine - please support her love of animals with a donation to the SPCA