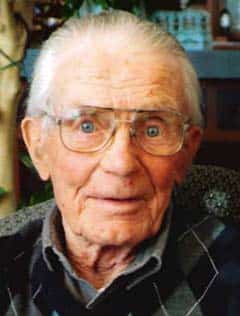 Lyall Phillips Foulston
On Wednesday, January 10, 2018, LYALL FOULSTON, age 90, of Beaumont, AB, peacefully passed away at the Grey Nuns Hospital, Edmonton.
Born on April 30, 1927 in Roland, Manitoba, Lyall was the oldest of two children of Frank Percy Foulston and Annie Della Phillips. He is survived by his five children: Craig Foulston of Leduc, Charlotte (Barry) Goodine of Medicine Hat, Deryl (Raymond) Comeau of Sylvan Lake, Ross (Dallas) Foulston of Wetaskiwin, and Rhonda (Patrick) Gobeil of Beaumont;  nine grandchildren:  Thomas (Jessica) Goodine of Edmonton, Elliot (Kait) Goodine of Austin, Texas, Damien Gobeil of Edmonton, Janelle Gobeil (Andrew Fraser) of St. Albert, Caelin Foulston of Wetaskiwin, Ryan (Eryn) Comeau of Medicine Hat, Drew Comeau (Ella Houston) of Australia, Kent Comeau of Victoria, BC,  and Travis Comeau of Red Deer; four great granddaughters: Celine Comeau, Layla Comeau, Tessa Fraser, and Lucy Goodine; his only sibling: Reva (Wayne) Syverson of Medicine Hat;   sister-in-law Audrey McQueen Smith of Edmonton; and numerous relatives and friends.  Lyall was predeceased by his loving wife of 54 years Doreen (McQueen) Foulston who passed away in 2003.
From a very young age, Lyall helped his parents with the businesses they owned doing the maintenance, cleanup and repairs.  One of his summer jobs as a teenager was working on a CNR dining car that took him from Winnipeg to Vancouver. It was from this experience that he came to recognize the opportunities in Alberta and the beauty of this province.  He decided then that he was going to live here someday.
Lyall and Doreen McQueen met while attending Gilbert Plains High School (Manitoba) and married in 1949. Shortly thereafter they moved to Edmonton and the Edmonton area, where they raised their family. Lyall worked with his parents in the family businesses in Edmonton and Lacombe prior to taking employment at Gainers. He was the Manager of the Distribution Department at the University of Alberta, a position he held for more than 20 years until he retired in 1982 at the age of 55.  While working at the U of A, he also enrolled as an adult student, in the Faculty of Business and Commerce.
Lyall enjoyed building houses, curling, playing hockey, farming, and spending time with his family.  He would finish building the new home and sell the "old' one which meant that the family lived in several communities in south Edmonton prior to moving in the early 1960's to the last home he built on the acreage in Windermere Estates, South Edmonton. There was a family vote on buying the farm south of Beaumont – the kids voted overwhelming "yes" when a pony was thrown into the mix. So in 1970, the family moved to the farm where Lyall thrived doing 'his thing' till his health needs changed approximately 4 years ago and he moved to a supportive living facility.
He loved the outdoors, animals and farming; and took pride in producing the highest yielding crops and the best horse hay in the country. He valued hard work, integrity, family, education and contributing more to the community and the world than you take. He did everything with detail, efficiency, purpose and vigor ….whether refurbishing a piece of farm equipment, renovating a building, replacing the fences, or doing the combining and baling.  "Anything worth doing needs to be done right the first time" was one of his many mantras.  Lyall and Doreen built a busy horse boarding and hay business; and from this made many lifelong friends.
Lyall was passionate about sports whether playing ice hockey or curling; cheering on his children and grandchildren as they played; or watching his favorite team the Edmonton Oilers. He played sports at a competitive level for most of his life and always did it with the same enthusiasm and passion he did everything else in his life.  He loved to share his experiences as a hockey goaltender, a position he played from a young age until he was in to his late 50s.
A Service and Celebration of Lyall's life will be held on Saturday, February 10, 2018, commencing at 1:30 pm, at the RedTail Landing Golf Club, Nisku (located on the west side of Q.E. Hwy 2, in close proximity to the Edmonton International Airport).
In lieu of flowers, donations can be made in Lyall's and/or Doreen's names to the Alberta Cancer Foundation:  albertacancer.ca or call 1-866-412-4222