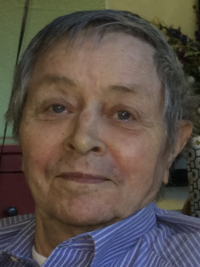 Lynn Dale Callfas
September 18, 1936
-
June 17, 2021
It is with great sadness that the family of Lynn Dale Callfas announces his passing on Thursday, June 17th, 2021 at the age of 84 in Edmonton, Alberta.
Lynn will be lovingly remembered and missed by his family: his son, Roy Alexander (Sarah) Callfas, his daughter, Launa Denine (Rob) Lockwood, his 4 grandchildren: Roy and Sarah's daughter Heidi and Launa and Rob's children, Keira, Kellen and Kacey of St. Albert, AB, his sister, Hope Sawatzky of Good Soil, SK, his nephews: Ron (Mary Ann) Sawatzky of Lloydminster, AB, Don (Terry) Sawatzky of Goodsoil, SK, Grant (Josie) Callfas and Warren (Debbie) Callfas of Lloydminster, SK and extended family and friends.
Lynn was predeceased by his parents, Roy and Margaret Callfas, his unborn brother Donald Callfas, his brother Orval Callfas, his sister-in-law, Joyce Callfas, his brother-in-law, Ralph Sawatsky and his nephew Kim (Christine) Sawatsky.
Lynn was born in Prince Albert, Saskatchewan on September 18th, 1936 to parents Margaret (nee Winski) and Roy Callfas. He grew up on the farm in the Bluebell district near Meadowlake, Saskatchewan and lost his mother and unborn baby brother Donald at the age of 4, so went with Hope to live with his Aunt Melinda in Prince Albert for a time. He and Hope returned to the farm at a later date and he got his first job at the age of 16 at an airstrip. Once he was 18, he moved to Edmonton, Alberta and had many jobs including being a pilot, a heavy equipment operator for the construction of roads, a business owner (Callfas Industries), a taxi cab driver and so on.
Lynn was a talker, so was very social. He will be remembered for his love of music, his corny jokes and sayings, his embellished stories and his happy go lucky personality. He loved corn on the cob, blue cheese, lobster with lots of butter and "real" homemade apple pie with tea. He enjoyed listening to Elvis and other country and western music and loved playing his red guitar while singing and performing to family and friends. He loved old cars and fixing them up, second hand stores and getting a "deal." He enjoyed playing hockey on a men's team called "The Rusty Blades," enjoyed family camping trips to Penticton, a family trip to Disneyland, fishing and telling fishing stories, wrestling with his son and anyone else who could "take him on" and loved cats, airplanes, reading the National Geographic magazine and the color blue.
He had big hands and a big heart, a great smile and laugh and a fun sense of humour.
Maintaining his wishes, he will be cremated. Due to Covid restrictions, a small, private family celebration of life will take place this weekend with Deacon Paul Croteau officiating.
Memorial donations in his name can be made at Capitalcare Lynnwood or at the Mazankowski Heart Institute.
A special thanks to Dr. Daisy Fung for her dedication and caring nature and to all the wonderful staff at Capital Care Lynnwood where he lived for the past 6 years.