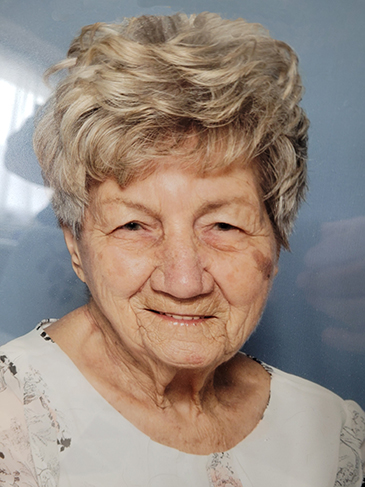 Mabel Zilda Cunningham (Peck)
August 22, 1927
-
April 15, 2022
It is with great sadness that we announce the passing of Mabel Zilda Cunningham (Peck).   She is predeceased by her parents John Robert Peck and Elizabeth Ann Peck (Lewis) and husband Wayne Grant Cunningham, her brothers Hebert Peck,  Frank Peck, Harold Peck and sister Alice Winchester.
Mabel is leaving behind her children. Roger (Anita), Patricia, Don (Brenda) and Christine (Mario )and grandchildren Christopher, Cheryl, Barry, Lori, Milana, Mat, Mason and Kate.   Mabel also has  six great-grandchildren, Emma and Devon, Malakai and Kamaria, and Aria and Emily.   She also leaves behind her sister Dorothy Potter.
Mabel was born in Olds Alberta August 22,1927.   She grew up on a farm near Bowden.   She loved the farm.    She met and married Wayne and lived in Bowden until they moved to Edmonton when Dad was diagnosed with polio.   She was a very strong woman who looked after our Dad and us while looking after the home. Mom was a homemaker who took in boarders when we were kids.   Along the way she worked  in a convenience store, worked cleaning apartments and for a time worked at Century Sales. She  also looked after the grandchildren while we worked.  She always said she enjoyed taking care of the house and cooking.  She was known for baking bread.    She had a knack with gardening  and working outside. She loved  working outdoors, crocheting, playing the guitar, painting and playing bingo.    Unfortunately she developed macular degenerative disease of the eye and gradually had to stop all her hobbies because of failing vision.
She was always positive and never let all the obstacles she had over the years get her down.   It didn't matter how much pain she was in she would tell you she was fine.
She passed on April 15, 2022 at the age of 94.   She will be lovingly remembered and  truly missed.
We would like to thank all the staff at the Sturgeon General Hospital for their attentive care and compassion.  We would also like to thank Dr. Karen Ching for all the care and help in the last few weeks of Mom's illness.