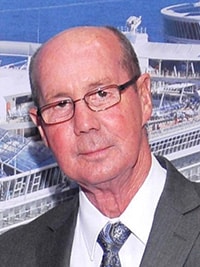 Mac (Ephriam) McConnell
Mac (Ephriam) McConnell passed away January 11, 2018 after a short stay in the hospital. He is survived by his wife Bev, his daughter Christina (Paul) Sutton, his son Kevin and the lights of his life, his grandchildren, Erika, Daxter, Bella, Connor and Tyler.
Mac was born March 24, 1946, into a family of 16 children in Depot Harbour, Ontario and spent his youth in Parry Sound.
Mac enlisted in the Royal Canadian Navy in 1967, completing his basic training at HMCS Cornwallis, then was attached for a few months to the Halifax for the Centennial Sunset Ceremony gun crew.
Then in 1968, when stationed in Edmonton as a Medical Assistant, he met his bride of 49 years at a Junior Ranks Club dance. Upon this first meeting, Mac declared, "I'm going to marry you!"
His military career spanned such places as Lahr, West Germany, a United Nations tour in Egypt, and several postings across Canada. In 1981 while stationed in Ottawa, he remustered to an Airforce Metal Tech. He retired in Edmonton in 1987. Upon his retirement Mac held management positions in North West Industries/CAE and then Smurfit-MBI.
Mac took immense pride in his membership in the Royal Canadian Legion, Kingsway Branch 175, in Edmonton, Alberta where he served on the Honour Guard. He was also actively involved with the Royal Canadian Air Cadets, both as a youth and later when his children joined.
Mac will be greatly missed.
A Celebration of Mac's life will be held at the Kingsway Legion, Branch 175, at 14339-50th Street, Edmonton on Wednesday, January 17, 2018, at 1:00 pm.
In lieu of flowers, donations can be made to Kingsway Legion, Branch 175, at 14339-50th Street NW, Edmonton, AB T5A 0S9