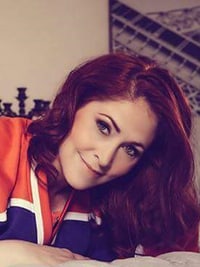 Mackenzie Tyler Martin (Scott)
Mackenzie would like you to know that her work here was done. She received a call on May 14, 2018, a sort of an offer you can't refuse, for an appointment from which she will not be returning. This assignment comes with a huge sign-on bonus, a reunion with her mom & aunt whom she hasn't seen in a long time. Job security, perhaps finally becoming a paramedic, is exactly a 110%. Her new mission takes her to a place where her soul is at peace, Cheap Wine & Cigarettes is on repeat, Disney movies are playing round the clock and no one will bug her for wearing black. Music, love and laughter are guaranteed. Food is delicious and you never gain an ounce. She left detailed instructions with her friends and children to make sure she was dressed to the nines and boy did they deliver picking out a gorgeous red dress for mom to wear and yes she was wearing good underwear and no her butt didn't look big. Mackenzie's mission here will be celebrated with laughter and stories that make you smile on July 22, 2018.
The brightest lights in Mackenzie's life are her 5 children Sawyer-Ann, Reanna, Ryleigh, Nathan and Keegan. Leaving them behind is not a good bye but a see you later. She's now in a place where she, along with her mom Marium and Aunt Marilyn, can watch over everything they do. Mackenzie leaves behind her dad John and siblings Shaun, Christina, Angela, Adam and Aaron; Aunt Alison & Uncle Norman, Cheryl, Sheldon and her partner John to watch over the children as well. The kids will also have Mackenzie's cousins, nieces & nephews, and friends to share their mom's memory with in the years to come.
Join us in celebrating Mackenzie on July 22, 2018 in Edmonton. More details will follow on Mackenzie's Facebook page in July. If you wish to make a donation in Mackenzie's name to CASA House, www.casaservices.org, or to honor one of Mackenzie's own requests become an Organ Donor.