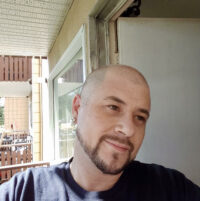 Marc Andrew Hilbrecht
It is with great sadness that the family announces the passing of Marc Andrew Hilbrecht on October 20, 2021, at the age of 40 years. Marc is survived by his sons Ethan and Quintin, father Ginter (Tina) Hilbrecht, step-father Dennis Boudreau, siblings Steven (Amanda), Greg (Anastasia), Mathew, Jordan (Mandy), Samantha (John), and numerous aunts, uncles, nieces, nephews, and cousins. 
Marc was predeceased by his mother Denise Hilbrecht, uncles Larry Fermaniuk and Karl Hilbrecht, aunt Cathy Pearson and grandparents Helena and Heinz Hilbrecht, Edna, and Leo Ricketts. 
Due to COVID restrictions, a memorial will be held for family and close friends at a future date.