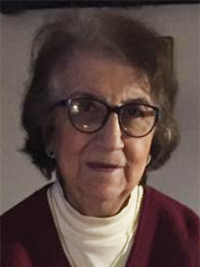 Marcia Dlabacs
Passed Away
October 12, 2021
On October 12, 2021, Marcia Dlabacs passed away at the age of 82.
Predeceased by her husband Julius, Marcia will be dearly missed by her siblings Myriam (the late Agustín), Patricia (Manuel), Sara (Angel) and Carlos (Tamara), nieces, nephews, cousins, good friends Bill, Peggy, Oswaldo, Cecilia and Sandra as well as numerous extended family and close friends.
To respect Marcia's wishes, cremation has taken place and she will be laid to rest in Quito, Ecuador at a later date.
In lieu of flowers, donations may be made to a charity of one's choice, in Marcia's name.