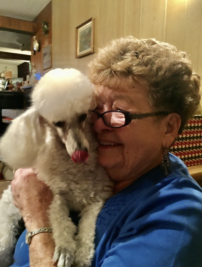 Margaret Brady
April 11, 1936
-
May 19, 2021
To know Margaret, you only had to spend a short amount of time with her to be swept away in amazement and admiration. She left Jasper, an independent young lady, with the determination to build the life she wanted, and enjoy her freedom to its fullest. Almost unheard of in the 50's, she moved to Edmonton, maintained employment, and shortly after, as a single woman, purchased herself a cute little house to nurture a welcoming home.
She worked hard and formed many great friendships, sharing her beautiful singing voice and artistic talents. When her employment closed Its doors, her determination pushed her forward and she succeeded on her own.
Margaret loved animals. Birds, dogs, cats, almost everything. She bred and showed toy poodles, winning countless ribbons and trophies for best in breed and group. She was known to have a dozen dogs in her home, and treated each and every one with love and kindness.
As with all who age, some friends fade away, yet new ones were being forged. If you were one of those people in her life when she passed away, your heart would be torn apart in loss, yet mended instantly when remembering her love, warmth, and kindness. Margaret was a gift to all those who knew her and, now suddenly, heaven illuminated in a beautiful hue of pink.