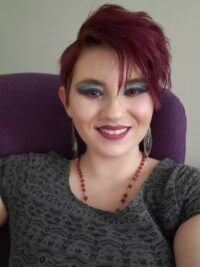 Margaret-Lynn Wiwchar
May 7, 1990
-
February 6, 2022
Margaret-Lynn passed away peacefully after a brief & difficult treatment for leukemia. She courageously fought throughout her month-long battle against blood cancer.
Remaining to forever cherish her memory are her loving mother, Katherine-Ann; her older sister Anna (Kyle) - Niece Khalan, younger brother Michael and Grammie Margaret Ann Wiwchar 
Her Uncles, Aunties & cousins… Stephen (Connie - Olivia, Jacob & Nicholas); Michael (Mei - Marcus & Maya); Margaret (Taye); Zenovia (Phillip - Breanna, Natalia, Aiden & Marek)
Family of the Heart… Auntie Lisa & Uncle Harold (Zachary, Tyler) & Auntie Pattie (Rion, Kodie)
Margaret-Lynn was predeceased by her two cousins Sara & Kieran, as well as her Grandfather Orest James Wiwchar
Margaret-Lynn loved life, despite the many limitations caused by her health conditions. Even amongst her struggles, she was a consistent reminder of the true meaning of Family. She celebrated every moment of joy with great importance, no matter how small. Reading, candy making & creating intricately weaved Friendship bracelets were a few of her favorite pastimes. She was a talented esthetician, who enjoyed teaching others how to care for their skin & nails. As a makeup artist, she felt her greatest achievement & pure delight, was giving clients more confidence. She made others feel they could accomplish whatever they set their mind to while always encouraging them to bravely fight their own battles. Margaret-Lynn will always be remembered as a devoted Daughter, Sister, Granddaughter, Niece, Cousin, Auntie, and Friend. She will be fondly remembered and forever cherished in our memories.
No service was held & because of Covid she was cremated. The family asks for you to remember her in whatever way will be significant to you. 
Her family requests donations, in Margaret-Lynn's memory, be made to the University of Alberta Hospital. Specifically to the Intensive Care Unit, Ward 3C3, who eased her passing from this world. Donations may be made by copying & pasting this web address into your browser. https://givetouhf.akaraisin.com/ui/donate/donations/start?
Under 'Fund Allocation' select 'Other Fund'
Under 'Other Fund Name' type 'Intensive Care Unit – Ward 3C3'
Mass for the repose of Margaret-Lynn's soul will be held at St. Joseph's Basilica, at a later date.