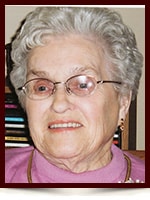 Margaret Mitchell
Margaret Mitchell passed away in Edmonton at the Grey Nuns Hospital on February 18, 2015 at the age of 89.
She was predeceased by her husband John and son Ken and survived by son Gerry (Tove) and daughter-in-law Pattie as well as 4 grandchildren /spouses and 8 great-grandchildren and also many relatives and friends that were very dear to her.
She grew up in Jasper, Alberta as a child and moved to Edmonton when she married living many years in the house at Riverside Golf Course and then in the latter years at Rutherford Retirement Residence.  She enjoyed golfing, curling and (both 5 pin and lawn) bowling for activities and knit and crocheted many a sweater and mitts.  Many of us will miss her awesome baking of cookies, squares and making of scones.
Cremation has taken place and we are honouring her wishes that that no services are to be held.
Her charity of choice was Stars Air Ambulance.
In her words "I lived a good life with no regrets" and our loving memories of her will always be cherished in our hearts.
We would like to extend our heartfelt gratitude to the wonderful staff at Rutherford Retirement Residence that took wonderful care of our mother.
Contact Information:
[wpseo_address oneline="1" show_state="0" show_email="0"]