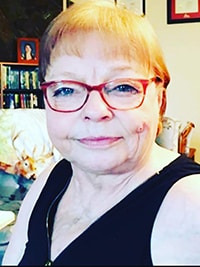 Margo Sandra Peddle
Margo Sandra Peddle passed away at The Mazankowski Heart Institute at the University of Alberta Hospital on August 5th, 2020. In the presence of her only child, Lucas Eugene Peddle and Crystal Melissa Clarke, a woman who Margo said was the daughter she always dreamed of having. Margo was preceded in death by her husband Leon, her Father Ralph, her Brother Eugene, as well as many Great Grandparents, Grandparents, Aunts, Uncles, and Cousins. Margo is Survived by Son Lucas, Mother Geraldine (Ralph) Brother Daryl, Sister Tina, Niece Jasmine, Nephew Jordan, and her beloved fat cat Milo.
Born December 16, 1967, in Botwood, Newfoundland. Margo loved nothing more than to be surrounded by her family, especially her brother Daryl and sister Tina. Margo had an infectious laugh, that could be heard for miles, and a beautiful smile that lit up every room, she was always the life of any gathering. Though her life may have been full of struggles she never let it get her down and always kept her spirits high.
As a little girl, Margo was sick with Kidney problems. At the age of 21, after the tragic death of her father who was to donate his kidney to her, Margo received her first kidney from her father's sister Dona Mitchell, a loving gift that we are all still very thankful for. Given this new chance at life, Margo moved her family in search of greater opportunities to Yellowknife Northwest Territories and later on to Alberta.
Her health would be an obstacle once again needing Kidney Dialysis until she revived a second kidney transplant in 2008. However, this second chance would be shorter-lived. In 2014 Margo again needed the life-saving therapy of a dialysis machine to keep her alive. Her struggles mounted from that point forward, never quite catching another break. Then on August 5, 2020 after experiencing complications from double heart bypass surgery, her tiny frail frame could handle no more. Margo went home to meet with her maker and a large loving family awaiting her arrival. You can be assured they all heard her coming!
A memorial service and cremation burial will take place in Leading Tickles, Newfoundland as soon as public safety protocols allow all who loved Margo to safely come together to celebrate her extraordinary life.
"Oh, how glad and happy when we meet ... no more cold Iron shackles on my feet "