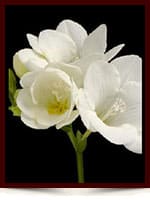 Maria Anna Trubendorffer
MARIA A. TRUBENDORFFER age 89 passed away peacefully on Monday, April 25, 2016. Born in Amsterdam, Holland and married for 68 years, is survived by her beloved husband, Douwe, her two daughters Rina and Gonda, five grandchildren, twelve great grandchildren, and predeceased by one grandchild and one great grandchild.
Maria was an incredible wife, mother, grandmother, and great grandmother, filled with love and devotion, always nurturing others' needs before her own. Her family was always her number one priority in life. Her God given strength to calm and heal animals was an amazing quality she was blessed with. Maria was also blessed with a musical talent for singing, and playing piano. Her passion in life was to bring peace, to love one another, and to teach respect for nature.
Maria will forever be in our hearts.
WE LOVE YOU ALWAYS
Graveside services will be held on May 3, 2016 at
Evergreen Memorial Gardens  at 11:00 A.M.
16102 Fort Road North, Edmonton, Alberta.