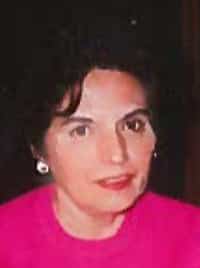 Marianne Moss (Checknita)
Marianne Moss (Checknita) of Edmonton, Alberta, passed away on Sunday, October 06, 2019 at the age of 85 years.  She died peacefully at St. Joseph's Auxiliary Hospital where she lived for years coping with dementia.
Born in 1933 in Redwater, Alberta, Marianne received a Bachelor of Science in Nutrition and Food Science from the University of Alberta in 1957.  After graduation, she completed her internship as dietician at the Montreal General Hospital.  Marianne eventually returned to Edmonton to work at the Royal Alexandra Hospital.  She quickly took on management rolls for CapitalCare Norwood and Dickinsfield centers and played a key roll in designing food programs for patients.
In 1968, she married Samuel Allen Moss in Edmonton where the two of them lived and were loved by both friends and neighbors.  Marianne was predeceased by her husband of 40 years in 2008.
She had an active roll in the community holding volunteer positions in the Edmonton Opera Guild and Volunteer with Seniors.  She was a member of the Orchid Society of Alberta and was an avid grower of award-winning orchids.
Marianne was well traveled and enjoyed seeing all parts of the world, most notably Spain, Greece and Israel.
In her later years she took care of her aging parents. Her father Walter suffered from Alzheimer's disease and her mother Katie was stricken with Multiple Sclerosis.  Her brother Marion lived in Trail, BC and passed away in 2012 at the age of 73 from complications associated with Alzheimer's.
She is survived by her sister-in-law, Cathy Checknita, her niece, Leslie (Robin) Baird, and her three nephews, Peter (Jennifer), Paul, and Pat Checknita who all have fond memories of spending time with her especially in their younger days during Christmas and at Fairmont Hot Springs during summer.
In lieu of flowers, donations can be made to the Alzheimer Society of Canada.
Celebration of Life
11 a.m. Saturday, October 19, 2019
Fairmont Hotel Macdonald
10065 100 St NW, Edmonton, AB