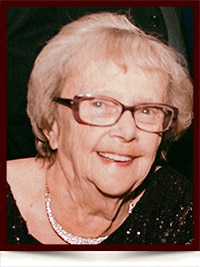 Marie Sherback
September 20, 1932 – August 2, 2017
Marie Sherback, beloved mother, grandmother, great grandmother, leaves to mourn her eight children; Tim (Smita), Ted (Marcie), Terry (Lynda), Tom, Patrick, Chris (Phiroza), Jayne (Randy) Rokovetsky and Richard along with 15 grandchildren and 3 great grandchildren.
Marie is survived by her sisters Joanne Scott and Betty Ann (Jim) McGowan and predeceased by her parents Morris and Mary Dowell, brothers Jim and Joe and sister Margaret Bruha.
Funeral Service
Saturday August 12, 2017 at 11:00 am
St. John the Evangelist Catholic Parish
9830 148 Street, Edmonton.
In lieu of flowers, donations can be made to the Cross Cancer Institute in memory of Marie.