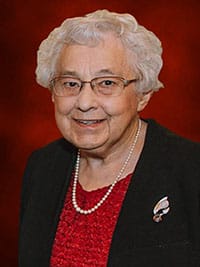 Marilyn Alma Woodruff
March 8, 1936 – October 22, 2020
On October 22, 2020, Marilyn Woodruff passed away in her home at age 84. Marilyn is survived by her husband of 63 years, Rev. Howard Woodruff, her children, Wendy and Daniel; grandchildren, David, Katherine (Nathan Smith), John and Rebecca: daughter-in-law Carolyn; brother Douglas Gurel (Joan) and sister Eleanor Gabriele (Cos). She was predeceased by her parents Otto and Martha Gurel.
Marilyn was born in Edmonton. Her family moved to Victoria in 1942; she was raised in Victoria and Vancouver. Marilyn accepted Jesus Christ as her Lord and Saviour as a child. She faithfully served the Lord for the remainder of her life.
At 18, she attended Canadian Bible College in Regina, Saskatchewan intending to become a foreign Missionary, graduating in 1957. It was here where she met her husband Howard. Marilyn and Howard were married in 1957; Howard was a pastor with the Christian & Missionary Alliance Church and served in Sturgis, Saskatchewan, Trail, BC, Hanna, Vermilion, Devon, and Peace River before retiring to Edmonton in 1997. Marilyn was an active member of Beulah Alliance Church for the past 23 years.
Marilyn's life revolved around her family and the church. She loved music and for many years taught music lessons in her home. She enjoyed classical music and attended the Edmonton Symphony Orchestra. She played piano and organ for church services from her teen years until the last year of her life. As a wife of a pastor, Marilyn was involved in all aspects of local church ministry; teaching children's church, Vacation Bible Schools, Pioneer Girls and cooking at Summer Camps.
She loved gardening, cooking and baking, entertaining in her home and organizing pot-luck dinners and other social events. There was rarely a Sunday dinner in her home where guests were not included. She was always involved in either hosting or preparing food for family dinners on every holiday or family birthdays, the last one being Thanksgiving 2020 which she prepared and hosted the Thanksgiving turkey dinner for her children and grandchildren. In her retirement years, Howard and Marilyn enjoyed meeting with friends for coffee, sometimes several times per week.
Although shocked by her sudden passing, Howard and her children are comforted by knowing that she is with her Lord and Saviour.
Due to Covid-19 restrictions, there will be a private funeral service for the family and friends. In lieu of flowers, donations may be made to Ambrose University, Canadian Bible Society or YONA Sistema Program of the Edmonton Symphony Orchestra.
To sign the book of condolences, please visit www.trinityfuneralhome.ca/obituaries