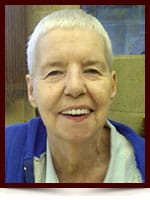 Marilyn Isabel Boyd (nee Dambois)
July 25, 1936 - December 13, 2014
Marilyn passed away suddenly on December 13, 2014.  She is survived by her sister, Shirley-Jean Mascherin, her beloved daughter Rochelle Shannon Boyd, her beloved granddaughter Saige Boyd-Freeman, her partner Kenneth E. Howery, and many wonderful nieces and nephews. She is predeceased by her parents, three sisters, one brother, and her five dogs, Mocha, Brandy, Vegas, Missy, and Dakota.  Marilyn was a light in our lives and she will be dearly missed.
Celebration of Life 
January 17, 2015 at 3:00PM
Royal Canadian Legion Kingsway Branch
14339 - 50 Street in Edmonton, Alberta