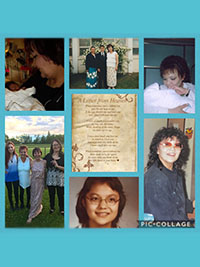 Marilyn Laura Young
Marilyn Laura Young
September 3, 1962- Athabasca, AB
June 29, 2020- Edmonton, AB
It is with great sorrow that we mourn the sudden passing of our dear mother, grandmother, sister, aunt and friend. She passed away in her Edmonton home on June 29, 2020 at the age of 57. She is predeceased by her parents Mary Bigstone (mother) and Stanley Young (father). She is survived by her children, their spouses and their children: Kayla (Shane);  Alicia (Chris) daughter Brooke-Lynn and son Oliver; Dallas and son Zachary, as well as siblings with their spouses and children: Dean, Rene, Neal, Barbara (Tony) son Tyrel and daughter Jamie;  Lorraine and daughter Laurie and son Christopher. And lastly, all her friends she thought of as family.
Marilyn had a zest for life. She had many interests including singing at karaoke, dancing, bingo, and attending sporting events. She was a very hard working, dedicated employee as an inventory clerk for 14 years at WIS international where she traveled Alberta.
Marilyn was a very compassionate woman who would do anything for the ones she loved. Her greatest pride in life was her children and grandchildren whom she always spoke the world of. She always did what she could to bring a smile to their faces.
Her wish was to be cremated. A Celebration of Life Service for all her beloved family and friends to attend will be in September 2020. Service details will be available in August.
They will be available through facebook (Alicia Young) or email: alicia.young.1987@gmail.com. If you have any pictures of Marilyn please forward to email above so they can be included in her celebration.