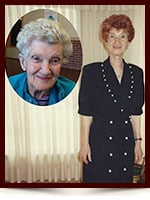 Marion Edith Dennis
Marion Edith Dennis, beloved Mom, Nana and friend passed away June 26, 2016 at 88 years old in Edmonton, AB, surrounded by loved ones. Marion leaves behind her treasured son, Greg Dennis and granddaughters Miranda & Gabrielle plus 3 brothers. She is predeceased by her parents, 2 brothers and a sister.
Marion's Celebration of Life Service will be held:
Saturday, July 9, 2016 at 1:00 pm at Dovercourt Baptist Church, 12321 – 135 Street, Edmonton, Alberta.
Interment will be July 9, 2016 at 4:00 pm at Holy Cross Cemetery, 14611 Mark Messier Trail NW inside the main building.
In lieu of flowers, donations may be made to the Salvation Army at www.salvationarmy.ca
A Reflection of a Full Life
Marion was born in Youngstown, Alberta to Frank and Edith Sherman on August 24, 1927. Having lost both her parents at a young age, Marion and her siblings were split up. At the age of 14, Marion was put in the care of a loving foster family, the Macquarrie's whom she cherished.
Marion, with her flaming red hair, which matched her personality was always feisty and confident. Her greatest love was her son and later grandchildren and lifelong friends.  She hosted many Sunday dinners for her friends and a legion of her son's friends.  She would cook all day and make sure everyone left with a full belly and refuse to let anyone help her with dishes.  Marion worked for the Alberta Government as a Comptometer Operator.  This large machine was later replaced with a calculator.  She worked there for over 40 years in the same position and she knew where every penny was spent in the Purchasing Department.  Marion also managed an apartment and could often be found doing yard work late into the evening.  As she was a perfectionist, the grounds were always impeccable and most times didn't want help, as it would not be done up to her standards.  Heaven help the person who littered on her lawn!
Although she did not have many hobbies, she did have a deep love of reading.  She would often be reading 4 to 5 different novels at the same time plus the Edmonton Journal every day and the Sunday Sun.  Her Edmonton Library card was extremely well used.  As a result Marion could talk to anyone about almost any subject.  This trait was passed down to her son and grandchild who are both avid readers.
Marion did not love to travel very far but did enjoy her journeys to see relatives and friends.  She did love to shop and always had the most beautiful wardrobe. If she wasn't out gallivanting with her friends, she was constantly on the phone catching up with someone.
In her mid 80's Marion developed dementia.  At the time the Dr.'s prognosis was 6 months to 2 years maximum but as she was a tough lady, she proved them wrong and Blessed us with her presence for over 5 years.
Over the last years she could not make anyone the big meals anymore, so her friends just brought the celebration to her at the Eaux Claires Extendicare where we had numerous family and friends dinners and celebrations with her.
Marion, you will always be loved, cherished and remembered.