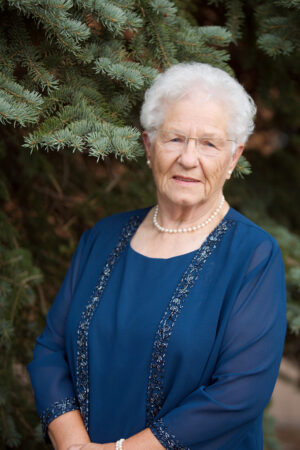 Marion Jean Strong
April 9, 1928
-
June 6, 2022
It is with sadness that the family of Marion Jean Strong announce her passing at 94 years on June 6, 2022.
Jean was born on April 9, 1928 in Lethbridge, Alberta to parents Angela and John Malacko. She grew up in a large family: Leona, Ernie, Marie (died as an infant), Jean, Jim, Ed, Jerry, Doreen and Dick. Brother Ed is the last surviving sibling.
Jean attended Lethbridge Collegiate Institute (LCI) where her basketball team won a provincial championship. While attending Southminster United Church, Jean discovered that she could apply for nursing school. Jean had good scholastic marks and was admitted. After completing high school she boarded a bus to start the Nurses' training program at Archer Memorial Hospital in Lamont, Alberta where she graduated and became a Registered Nurse in 1950.
By coming to Lamont, she met the love of her life, Herbert Ashley Strong. They were married on October 4, 1951 and settled in Ashley's hometown of Bruderheim. Jean was employed at the Lamont Hospital while Ashley managed the Strong & Sons family businesses including a hardware store, farm fuel, fertilizer and garage service. They raised their two daughters, Laurette and Jocelyn, in this wonderful small community. In 1965, they built a beautiful home in the center of town with a large yard and massive garden where Jean would spend many of the best years of her life. Planting potatoes each spring became a family event and volunteering in the community.....a way of life.
Tragedy struck in 1972 with Ashley's untimely death, widowing Jean at the age of 44. Jean was determined to continue to live in her home so Laurette and her family moved in. The first grandson was named after her husband, and began saying her name as 'Nean' which stuck with family and friends for the next 50 years. Her four great grandchildren called her Grandma Nean.
Jean continued nursing, furthering her education and professional responsibilities until retiring in 1988. She really enjoyed travelling during the early years of her retirement with friends and nursing colleagues, visiting many different places including England, Israel, Greece, Australia, Japan, Cook Islands, Mexico and Alaska. Jean was a remarkable cook and baker. Her chiffon cakes were always requested for special occasions. She loved gardening in her vegetable patch and flower beds and volunteering her time to support others. Her efforts were recognized through the 'Bruderheim Citizen of the Year' program and she was also a recipient of the Queen's Jubilee Medal.
The family moved to Sherwood Park in 2000. Jean missed Bruderheim but kept in contact with many good friends. Her new neighbors loved her help with flowers and recipes and her Christmas cinnamon buns became a neighborhood tradition.
Jean endured 4 major surgeries in 2010 that required a lot of recovery. Jean was strong-willed and this resilience served her well. As dementia began to set in, the changes were a challenge for the whole family. Nevertheless, her spirited independence remained a hallmark as the care she required became more extensive. Even though the last few years were difficult and confusing, Jean would always light up whenever family was around and she hung onto pieces of her personality to the very end and made her feisty presence known wherever she went.
Jean was our matriarch and a very generous woman who deeply loved her family.
Jean is survived by her daughters, Laurette Strong (Don O'Kurley) and Jocelyn Strong (Mario Orlando); four grandchildren, Ashley O'Kurley (Sandra Beggs), Austen O'Kurley, Avarey Amyotte (Jeremy) and Luke Orlando; four great grandchildren, Rainen O'Kurley, Amaia O'Kurley, Owen Amyotte and Jaxson Amyotte.
Jean requested Cremation and no service. A private family gathering will be held at a later date.
Memorial donations can be made to a charity of your choice or
The Mustard Seed, Community Support Cnt,
105680-114 St NW, Edmonton, AB T5H 3J7
Alzheimer Society of Canada
20 Eglinton Avenue West
16th Floor
Toronto, ON M4R 1K8