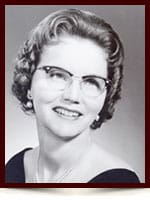 Marjorie Alice Pickrell
6 April 1924 – 30 November 2017
On November 30, 2017 Marjorie Pickrell passed away peacefully at the age of 93.
Marjorie is pre-deceased by her brothers Edward, Lawrence, and Robert; and sisters Velda and Ruby. She is survived by her brother Arnie (Lil, Janice, Christie, Murray); sister Audrey (Debra, Marilyn, Stewart); son Terry (Jean); daughter Maureen; grandchildren Martin, Kristina (Armande), Jeff (Jo-Ann), Melanie (Jeremy) and great-grandchildren Gabe, Anushka, Ellora, Liliya, Reid.
The family would like to thank the wonderful staff at Sherwood Care (Echo Valley) for their care and compassion for both Marjorie and the family.
In lieu of flowers, the family asks that donations be made to help support the music program at Sherwood Care. www.sherwoodcare.com
Keep on dancing "my little Margie" xxox.