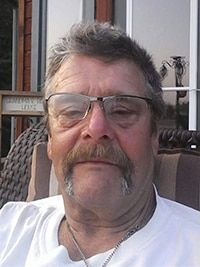 Mark Joseph Morris
March 21, 1952 – September 22, 2018
It is with a broken heart that we announce the passing of our Father Mark Joseph Morris at the age of 66. He passed away at Alberta University Hospital on the morning of September 22, 2108. Mark is survived by his daughter Melissa (Gonzalo), Son James (Jessica) and grandchildren Marissa, Christian, Ethan, Miranda, Lilah and Logan. He will be missed by many, including his very large extended family of cousins, aunts and uncles.
Mark had a love for the outdoors, camping, fishing and hunting. When he wasn't fishing, he was dreaming about fishing. He made friends where ever he went, he was a friend to all. He was thoughtful, kind and had a big heart. He didn't ask for much in this life, but it didn't keep him from dreaming.
"Martin's Beach"
Over cast morning, Seagulls flying over head
the salty breeze flows through our hair
we close our eyes and see our father standing there
cut off jeans, no shirt and a net in hand
He is peering through the waves looking to throw his next cast
The sun peaks through the clouds as we can feel the warmth of the sun on our face
He throws his net and runs back with a catch
Smelt are flipping and flopping as we place them into our bucket
He takes our hand as we head to the tiny snack shack
The bell on the door rings as we enter our favorite little store
Sand all over the rickety wood floors, we pick our treat and head back for more
Following our fathers footprints in the sand
the waves come crashing down and we run from getting wet
We turn around and look along the shore, we no longer see his footprints there anymore
Mark was predeceased by his father James and mother Helen who he missed everyday. I'd like to think they are altogether enjoying a day at the beach.