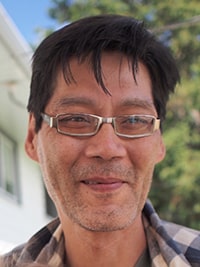 Mark Young McKee
Mark Young McKee was born January 15, 1963 in Seoul, Korea and immigrated to Canada October 16, 1968 when he was adopted, along with Leeanne, as the youngest brother and sister in Bob and Fern McKee's family of 8.
Mark lived his young years in Dawson Creek, BC and then Kelowna when the family moved. He finished his schooling in St. Albert, AB and worked many years in Alberta, NWT and BC: Banff, Yellowknife, Medicine Hat, Wainwright. He especially liked working with his brother Don in Chetwynd in recent years. Mark was a caring, loving, and giving person. He loved movies, playing cards and games, and enjoyed cooking and eating all kinds of food!
Mark spent the past year in Edmonton waiting for a liver transplant. However, after two operations, Mark's trauma was too great for him to overcome and he passed away surrounded by his family on July 9, 2018.
Mark leaves to mourn his loss: Shirley and the Baxter family, his brothers and sisters: Bob & Elaine McKee, Monell Fulk, Colleen and Bob Langille, Debbie Timmons, Don & Bonnie McKee, Lois & Kim Janowsky, and Leeanne & Kim Froehlich, his nephews and nieces: Dean (Sharon) Langille, Nicole (Darrel) Johnson, Erin Flynn, Tony (Kim) McKee, Joe (Sharla) McKee, Bree Timmons, Barron (Becky) Timmons, Leah Timmons, Drew McKee, Jennalise Janowsky, Hallie (Shawn) Mosher, Jillie (Dylan) Storle and Linnea (Albert)  Froehlich, and his   great nephews and nieces: Tara Johnson, Shayla Johnson, Lochlan McKee, Ryder McKee, Townes McKee, Mattea McKee, Macy Timmons, Willa Timmons, Kenley Mosher, Presley Storle and Wylder McKee.  Mark also leaves to mourn his extended family of cousins, and his friends.
His parents, Bob & Fern McKee, predeceased Mark: Bob in 1989 and Fern in 2001. We are sure that they were waiting with open arms at Heaven's gate!
Our family is forever grateful to his doctors and the amazing transplant team at the University of Alberta Hospital – Mark could not have received better care and compassion. We would encourage everyone to become an organ donor – the importance cannot be stressed enough, and we are so grateful for the two people who did give of themselves so selflessly. Our thoughts, prayers and gratitude are with those families.
We would also like to thank our many friends for their prayers during this difficult time; it is so very much appreciated.
Mark will be laid to rest in a graveside service on Thursday, July 19, 2018 at 12:30 pm in the Glory Hills Cemetery, Stony Plain, AB.  Refreshments to follow.