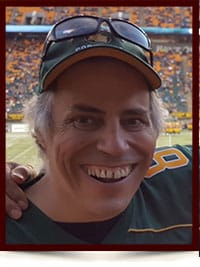 Martin Julien Le Clair
August 1st 1966 - October 28th 2017
It is with deep sorrow we announce that on Saturday, October 28, 2017 at 12:10 a.m., our beloved Marty passed away at the University of Alberta Hospital.
Known as "Mr. Positivity," with beaming smiles, he leaves to mourn his loving - and unconditionally devoted - Mother Elsie (Mumsie) Le Clair; brothers Dan and Frank, and sisters Maggie and Susie.  Marty was pre-deceased by his father, Maurice.
He also leaves to mourn many nieces and nephews, cousins, extended relatives, and a multitude of close friends and co-workers.
Though his diagnosis last August was a complete shock to us all, this last year has been one of hope and, at times, felt somewhat miraculous.  Marty enjoyed a high quality of life, spending each day since his diagnosis with his Mum.  He always held the hope that he would conquer his diagnosis, up until these last few months.
Marty was a music lover, who spent much of his spare time attending and volunteering at numerous music festivals.
Marty worked for Purolator well over 20 years,  and spent many days this past year connecting with everyone he loved and cared about to reminisce about all the good times he's had in his life.
Marty is, and will be, deeply missed.  There is an eternal place in our hearts for his huge presence, but a hole in our lives where he once stood.
As per Marty's wishes, he has requested there be no funeral or service.  Marty's wish was to be cremated, and have his ashes scattered in the Salmon Arm area, where one of his favorite music festivals was held .  The family respects these wishes, and we are currently making arrangements for a gathering in his memory.  There will be a notification on Marty's Facebook page, and passed along.
We know many hearts are sad at his passing.  There is a saying, "The Ancestors have called him home.  There are other bigger plans for him."