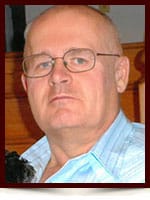 Marty Dale Christiansen
June 1, 1960 - April 17, 2014
Marty Christiansen of Sherwood Park passed away at the age of 53 years.
Marty will be remembered by his loving wife Darlene of 27 years; son Russell and daughter Jocelyn; mother Betty Krill, brother Darcy (Joanne) Christiansen, sister Roxanne (George) Nathanial and nieces and nephews; grandmother Bernice Towpich and Grandmother Ruth Christiansen. He was predeceased by his father Dean Christiansen, grandfather Jess Christiansen and his uncle Niels Christiansen.
As per Marty's wishes no funeral service will be held.
We would like to thank all the staff at Norwood Capital Care for looking after Marty and all the Doctors who looked after him during his journey.