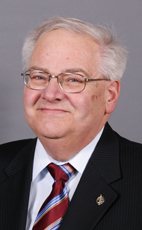 Marvin Kenneth Epp
May 11, 1939
-
February 20, 2022
We are celebrating a life well-lived. Marvin Kenneth
Epp
passed away on February 20, 2022 and we rejoice that he is with the Lord and reunited with his beloved wife, Betty.
Ken was born in 1939 and grew up in Swift Current, Saskatchewan on a farm with his parents Cornelius and Mary Epp as well as his siblings Jack and Marion.  He was the first person in his family to attain a university degree.  In 1961, Ken married Betty Klassen and they had 3 children, Beverley, Brent and Brian.  Ken and Betty began their married life in Duchess, Alberta where he had his first teaching position.
In the summer he would drive transport truck and bring home jugs of root beer to share with the kids.  Ken was a gifted teacher and loved nothing more than being in front of a group of students.  He taught in the math and computer departments at NAIT for 27 years.  He rode his bike to work long before it was the cool thing to do! The family spent many happy summers at Camp Evergreen where Ken had many roles including Camp Director and working on the board.  Many fond family memories were also made while travelling and camping with the trailer.  In 1975, the family moved to an acreage in Ardrossan and Ken was an active member of the Sherwood Park Alliance Church and was the first Chairman of the Board for the Strathcona Christian Academy.  After much thought and encouragement from friends, Ken decided to run for political office as a Member of Parliament with the Reform Party.  This was a very busy time for him and Betty.  He would arrive home from Ottawa late on Friday night, work in the constituency office on Saturday, teach Sunday School on Sunday morning and then fly back to Ottawa that afternoon.  He served the constituents of Elk Island for 5 successful terms until he retired in 2008. 
Ken taught Sunday School faithfully his entire adult life and never tired of sharing his faith with others.  Since childhood he was also a talented pianist who could play any song by ear which served him well when leading worship or entertaining.  Ken was kind, gentle, fair, intelligent, and a man of integrity who lived his faith authentically every day.  He had a great sense of humour and many friends.  Ken and Betty were a great team and enjoyed entertaining friends old and new at the house.  Dad provided us with a loving, fun and stable home and we are thankful. 
Ken was predeceased by his parents and sister. Without a doubt his biggest loss was his wife Betty in 2019, right before COVID. He missed her every day. He will be remembered forever by his children:  Beverley (Dallas, Kayla), Brent and Susie (Noah and Victoria, Hannah, Micah) and Brian and Lisa. He also leaves his brother Jack and Laura Epp, Betty's sisters and many nieces and nephews.  Well done, My Good and Faithful Servant.  
A memorial service will be held at Sherwood Park Alliance Church (1011 Cloverbar Road) on Saturday, March 5 at 11 AM. Livestream will be available at www.spac.ca/specialevents
In lieu of flowers, we encourage donations to be made to The Wilberforce Project or to your church.