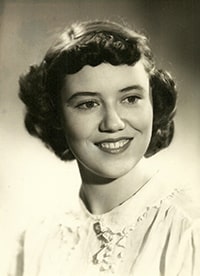 Mary Anne Carolyn Elizabeth "Carole" Rose (née Devine)
Born: April 28, 1933 in Regina SK. Entered into rest April 23, 2020 in Nanaimo BC.
Predeceased by her parents, Gerald Beauchamp Devine and Genevieve Josephine McCarthy. Carole leaves behind her sister, Patty Huschilt (Nick, deceased) and brother, Edward Devine (Anndee), her two daughters, Patty and Mary Anne and three grandchildren Taylor, Ty, and Paige, 10 nieces and nephews, 22 great nieces and nephews and 2 great-great nephews.
Carole attended Holy Angels Elementary School in Calgary and the original St. Mary's Catholic High School in Edmonton. She figure skated. She attained her Grade 8 in piano. She graduated from the University of Alberta with a Bachelor of Education in 1955. Carole was a member of the Kappa Alpha Theta – ΚΑΘ sorority and was very active in the Glee Club. She taught briefly in a one-room schoolhouse in Bingley Alberta. As a Home Economics teacher, her students will remember her from St. Mark Jr. High, St. Francis Xavier and St. Joseph High Schools in Edmonton. She was a member of St. Andrew's Parish, Edmonton for 50 years.
Carole was a bon vivant. She loved to golf. She loved to dance. She loved to sing. We will remember the twinkle in her eye and her sense of humour when she recalled a funny story from her summers at B-Say-Tah Point in Saskatchewan, her many adventures during her school days as a student and a teacher and so many happy times with family and friends at her cottage on Pigeon Lake, Alberta.
We are blessed to have learned many valuable lessons from Carole. We know she would say to us, "Knowing and loving each of you was the success story of my life. We will meet again, joyfully, on the other side".
Carole will be interred at Holy Cross Cemetery, St. Albert Alberta on Wednesday May 6, 2020 at 11:00 am. At a future date family and friends will gather to celebrate her remarkable spirit.