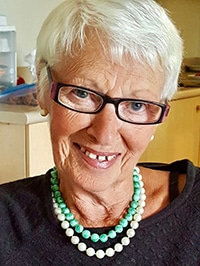 Mary Delena Shaw (nee Fader)
July 17, 1940 - April 8, 2018
It is with great sadness and heavy hearts, that the family of Mary Delena Shaw announce her peaceful passing surrounded by family and love on April 8,2018 at the age of 77 after her courageous battle with cancer.
Mary is survived by her husband Meryl Elwin Shaw of 50 years (Wednesday April 18), her children Bill (Shirley) Glass, Ponoka, Elaine (James Vik) McInnes, Edmonton, Patricia (Ryan Andrew) Ewasiuk, Fort Saskatchewan, Pamela Harry, Whitehorse, Rosalie (Mike) Kierluk, White Sands, Debbie (Tom) Morrissey, Mission, Melodie (Marvin) Fitzel, Peers, numerous grand and greatgrandchildren, nieces, nephews and friends.
Mary was predeceased by her parents Alex and Myrtle Murray, James Vincent Fader, brothers Clayton Fader and Frasier Murray, daughter Sue Sherrer, and son Wayne Shaw.
Mary was born July 17, 1940 in Hazel Hill, Nova Scotia where she grew up into a vibrant and beautiful young woman. Mary was married to Ron Glass in 1958 and they moved to Toronto where their family was started. Bill in 1960 and Sue in 1962. Mary was remarried to Meryl Shaw in 1969 and their family continued to grow (Meryl's daughters Pamela, Rosalie, Debbie & Melodie). Mary and Meryl had additional children when they had twins Wayne and Elaine In 1969. Unfortunately, Wayne passed early in his life and then along came Patricia (the baby of the family) in 1972.
Mary was a caring person who always had an open door for family and friends, where you could pop in for an hour or stay for a night. She was mom to many more than her own children!
Mary will be lovingly remembered and deeply missed by her children, family & friends.
The family wishes to extend their sincere gratitude to the Alberta Health Services "Palliative Home Care Team" (Dr. Ronald Barton, Nurse Sat Pal and others). Their support, care and compassion during this difficult time was second to none and allowed mom to remain at home and be surrounded by family and love right to the end.
A Celebration of Life will be held in mom Mary Shaw's honour at The Trinity Funeral Home Ltd., 10530 -116 Street Edmonton, AB T5H 3L7, on Monday April 16, 2018 at 2:00 p.m.
In lieu of flowers, if Family and Friends wish a Memorial donation in Mary's honour may be made to the Alberta Health Services (Palliative Home Care) 9524 - 165 Street Edmonton, T5P 3S4., and or the Red Cross.