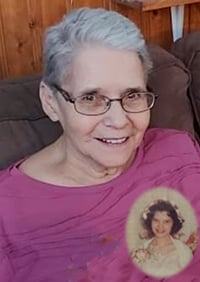 Mary Elizabeth Robinson (McNabb)
It is with deep sorrow we announce the passing of Mary Elizabeth Robinson (McNabb) on January 12, 2021.
Mary fought a long 9-month battle to beat cancer and succeeded in 5 months, only to suffer with many challenges of health problems, but could not in the end win the battle that kept re occurring.  In the end her liver was attacked to the point of being incurable, sadly the cancer had also returned to an un repairable area that Mary could not beat, only because she was so weak and the fight was all but gone.  To the very last she never gave up!  She still had hope and a smile still the same.  God Bless Mary now and for ever.
Mary was predeceased by her brother Delton, sister Lana, father Bert, mother Doris and her brother Gary.
Mary will be loving remembered and cherished by grandchildren: Carrie (Mitch), Bj (Gina), Amanda, Christine, Carmen, Becky (Sebastian)  and Bruce; as well as her great grandchildren: Colby, Taylor, Kaydence, Alexa, James, Matty, Sophie, Mya and Ryland
Messages from the Family
~~~~~~~
The first night we met
A bunch of us were going to town, I said out the window "no more places to sit", Mary said "open the door", sat on my lap and said "there I got my place"......  61 years, 7 months,12 days later, came to an end.  Till we meet again..  my lap will be available.
Till we meet again
Dear Mary losing you has been like losing my legs.  I can't explain the feeling but numbness comes to mind.  I tell you I love you as if you are still here and  in spirit you are with me.  Life with you for 62 years could not feel any better no matter what.  I have tears in my eyes more than not, just saying your name the flood gates open.  I hope in time we can be as one again, so deep in love as always love does not change it just gets better.
Love you to pieces and bits, me to you and you to me always.  We never said goodbye, just see you..
Love Dick
~~~~~~~~~~
I am so truly blessed and honored that you were my Mom. I am the women I am today because you showed me how to be kind and loving and strong.  You were unselfish and loving and always thinking of everyone before your self.  You saw the beauty in all of us and always made me feel special. When all the grand-kids were born they had a special place in your heart. Your eyes would light up with love when you saw them.
I will miss your smile and your soft spoken voice. You will always have a piece of my heart.
I wish you were here today but i know that you are flying with the angles today. I will love you forever.
Your loving daughter
Pam (Baird)
~~~~~~~~
My memories of Mom
I will always remember Mom to be kind, gentle, patient and giving of herself to help others. She was a beautiful person inside and out Always thinking of others before herself. She was soft spoken and always made me feel special which I found to be very comforting.
Mom was a great cook and her meals were always delicious no matter what she made. She enjoyed giving me leftovers for my lunch on Monday's which meant I had two helpings of her food. All her meals were made with a lot of love as she enjoyed cooking for her family.
Family was the most important thing to mom. She loved all babies whether human or animal. I could tell how much joy they gave her.
I will always miss her teasing me about which cloth I never remembered to use when drying her cast iron pot her delicious meals were cooked in! Her gravy was the best and will never be duplicated. Always one of the best part of the meal and mom would tease me to leave some for everyone else.
I will always miss mom who was one of my best friends.
I hope I can be a good of a mom as she was...one in a million.
Love you Mom and miss you so much!
Joanne (Berend)
~~~~~~~~~~~
My Mom
The most beautiful soul, Mom's smiles, hugs, laughter, guitar playing awesome.  All my memories of Mom never will forget.  Mom was there for me always and I believe still is.  Mom would listen and give good advice and say "don't tell your dad" ha ha.  Every day I miss Mom more and more.  Heaven is better to have her there once again to show us the way.
Forever in my heart, Love you Mom
Chris.
~~~~~~~~~~~~~~
To mom. I couldn't have asked for a better mother than you were. You always made me feel better if I was sad or feeling down about anything. I'm going to miss your loving ways and how you never judged me for things I did that you may not have agreed with. I'll especially miss all your home cooked meals especially your turkey dinners and your sweet and sour meatballs and the light hearted conversations we had as a family at the dining room table.We will both miss your smile and laughter when I did something silly around you. I also really enjoyed tuning your guitar for you as I know how happy that made you feel. Most of All I miss you mom!
Love from Gerald and Christiline