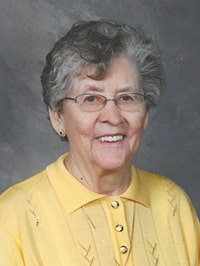 Mary Frances Milot (Glysinski)
Mary Frances Milot (Glysinski), 83, of Edmonton passed away on February 7, 2018 in Edmonton, AB.
Mary was born in Round Lake, ON on July 1, 1934 and moved to Edmonton in 1967.  She independently raised her nine children and operated her own hairdressing business for 49 years.
Mary is survived by her Sons (Hopper) - Lawrence (Diane), Benny (Ellen), Billy (Rose), Michael, Cecil (Debbie), Raymond (Shannon), David (Kim); Daughter Darlene (Gerard); Daughter-in-law Sandy; Brother Chester; Sisters Bernice, Rita (Joe); 20 Grandchildren, 19 Great Grandchildren, numerous nieces and nephews.
Mary is preceded in death by her Husband; Charlie, Sons (Hopper); Daniel and Thomas, Brothers; Bennie, Leonard and Ambrose, Sister-in-Law; Charlene, Brother-In-Law; Orie.
The family of Mary wishes to extend our sincere thanks to the doctor, nurses, and support staff at Capital Care Norwood Palliative Care Unit for their generosity and caring service.
Mass of Christian Burial
Thursday February 15, 2018 11:00AM
St. Clare Catholic Parish
6310-118 Ave in Edmonton, AB.