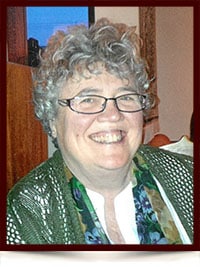 Mary Lynn McDowell
Mary Lynn passed away peacefully from this life about 12:35 a.m. October 24th, 2016 after a courageous battle with digestive issues.  She will be sadly missed by her family and friends who loved her deeply.
Mary Lynn was born in Saskatoon October 9th, 1953 growing up there until Grade 9.  Thereafter, she attended Luther College in Regina for high school.  Subsequently, she returned to Saskatoon taking  business college.  Shortly after she met Murray.  Months later Murray was about to be transferred to Edmonton and realizing their appreciation for each other they married April 28, 1973.  Once in Edmonton Mary Lynn took a university night class and loved it (anthropology/history).  Shortly after full-time university she started majoring in philosophy (Honour's 4 years course), 2nd major in anthropology, then two years Drama - Fine Arts, and finishing with a B.Ed. after degree in 1990.
As having her own family was not in the cards, Mary Lynn poured her energies and talents into helping many young challenged youth.  Too soon after health issues caused her to leave teaching to find health solutions for herself.  Concurrently she enjoyed her varied flowers greatly and learned rapidly of her joy.  In later years she couldn't socialize much but did what she could and enjoyed her partner's company.
Mary Lynn will be missed greatly by her partner Murray and her family and his family.  We all take comfort in the fact that Mary Lynn will live on in our hearts and in our memories forever.
Celebration of Life
Saturday November 12, 2016 2:00PM
Trinity Funeral Home Chapel
10530 116 Street, Edmonton AB
.