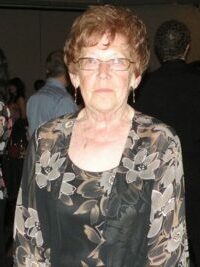 Mary Malayko
Passed Away
March 26, 2021
"Let us endeavor so to live so that when we come to die even the undertaker will be sorry."
Mark Twain ^
Mary Malayko (Mary Elizabeth Kwasnycia) was born May 4, 1932 in Spedden, Alberta, she peacefully passed away March 26, 2021. She was predeceased by her husband, Kornel in 1975 and by her long-time partner John Kusick in 2019. She is survived by her children Connie, Darrell (Kim), Dale (Darlene) and Cathy (Paul) as well as eight grandchildren and six great grandchildren.
Mary worked at the Credit Bureau and at the Bank of Nova Scotia where she progressed to become a Loans Officer. As a single Mom Mary was very good at balancing the books and providing for her family. Mary was kind, had a willingness to always lend a hand, and she loved her family unconditionally. Mary always told her children "I love you all equally".
Mary loved gathering with her family for Sunday dinners while in Edmonton and coming together on special occasions at the farm for dinners, wiener roasts, and epic hayrides. Mary was a social butterfly and enjoyed making new acquaintances, and new friends wherever she went. Mary loved to get dressed up and go dancing, travel the World and volunteered at the Greenhouse and for Elections into her 80's. Mary enjoyed crocheting, gardening, and cooking fabulous Ukrainian meals.
We will miss her sharp sense of humour and her deeply caring manner.
Most recently Mary resided at Miller Crossing Continuing Care Centre on 50th Street. The family wishes to extend their sincere appreciation to the staff of Miller Crossing for their compassionate care. As well, we extend our heartfelt thanks to her caregivers at Two Hills Hospital.
An immediate family only Funeral Service will be held in celebration of Mary's life at Trinity Funeral Home on Tuesday March 30th at 1:00 PM. The Service will be livestreamed at ( https://youtu.be/pRv1c8p6rEc ). Following the service, Mary will be interned at St. Michael's Cemetery 13819 82 St NW.