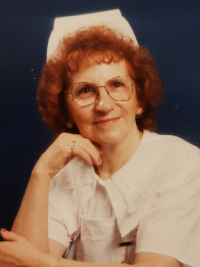 Mary Middleton
March 25, 1925
-
July 19, 2021
On Monday, July 19, 2021, Mrs. Mary Middleton of Edmonton, Alberta passed away peacefully at the age of 96 years.
She is lovingly remembered by her children Lena, Lawrence (Barb), Russ (Anne), Sylvia (George), and Billy (Lynn), her sister Helen, 13 grandchildren, 15 great-grandchildren, 5 great-great grandchildren and many nieces and nephews. Mary was predeceased by her sister Stella, brother John and by her adopted son Neil.
Mary was known to all as a friendly, kind and generous person. She cared about others and was always ready to lend a helping hand, to support those in need. While fiercely committed to her family, Mary had a strong and independent spirit. She was proud of her many accomplishments and shared her passion for learning and life with those around her. Her work as a Nursing Assistant in the Sherwood Park Nursing Home and at St. Michael's Extended Care Centre contributed to the lives of residents, their families and her colleagues.
Mary's spirit will live on in her family and in those whose lives she touched.
Mary's ashes to be scattered where her mother is buried near Lake Bellevue.
A Celebration of Life will be held on Monday July 26, 2021 at 2:00pm. The service will be live streamed here: https://www.youtube.com/watch?v=xdspNntBW4E