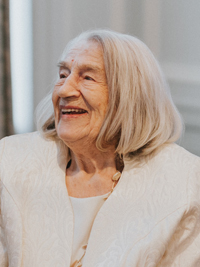 Mathilde (Hilde) Mina Kaiser
Mathilde (Hilde) Mina Kaiser
1919-2020
It is with heavy hearts and great sadness that we announce the passing of our Oma, Mathilde Mina Kaiser, on July 3rd, 2020.  Oma lived a full, long and happy life and completed her journey at home, surrounded family and beloved friends, after a short battle with cancer.  We will miss her greatly.
Oma was born on May 14, 1919 in Wilferdingen, Germany, to Emma and Friedrich Duerr.  She was the middle child of three girls.  In March 1944, she married Karl Georg Kaiser and later that year, they had their first and only child, Inge.  Regrettably, Karl perished in March 1945. Oma raised her daughter as a single-mother in post war Germany.
In 1976, a new journey began when she emigrated to Edmonton, Alberta, Canada with her daughter Inge, son-in-law Volker, and her two grandchildren Patricia and Alex.
With a great sense of adventure and a very social personality, she traveled to many places in the world to explore and see new things. Making friends came easily for her and her friendships spanned many generations, to whom she also became known as Oma. Her curiosity and appetite for new things made her our tech savvy teenager. She was an avid user of facebook, facetime, what's app and the internet was never fast enough.
Hilde Kaiser is survived by her daughter, Inge Reuss, her granddaughter, Patricia Hinsen-Rind and husband Michael Rind, her grandson Alex Reuss and wife Rita Melo Reuss and her great granddaughter Alexia Dumitrache and husband Christoph Dumitrache.
Oma leaves behind a legacy of joy, love, laughter and a wicked sense of humor. She takes with her the secret to eating unlimited amounts of chocolate while maintaining a slim figure.
Given the Covid-19 Pandemic, there will be a small graveside service for family and friends and a live broadcast for those abroad, in Germany and Brazil.
Should anyone desire, contributions in honour of Oma may be sent to ABC Head Start (www.abcheadstart.org/donate).