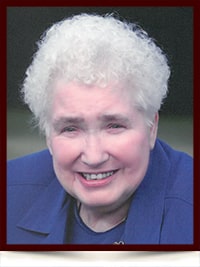 Maud Elizabeth Chandler (née Younghusband)
March 11, 1927 – May 18th, 2017
Maud Elizabeth Chandler (née Younghusband) passed away peacefully in Edmonton at age 90. Maud is predeceased by her husband William Chandler, parents Margaret Isabela and Ernest Younghusband and Brothers Ernie and Dennis Younghusband.
She is lovingly remembered by her sons Bill (Anne), Chris (Julie), her grandchildren Alexandre and Emilie, close friends, as well as her nieces Helen, Susan, and Ann, and family who are overseas.
Maud and Bill immigrated to Canada from South Shields, England in 1956 and lived in Edmonton raising their two boys. Maud was a great mother, a painter and she worked at Reids China and Gift for many years, a job she loved.
Maud was a member of St-Mathews Catholic Church and attended church regularly since the founding of St. Matthews until her health started to deteriorate.
She was an active reader, reading stacks of mystery novels from the library, She loved watching TV mysteries, playing bingo, going to (and singing along with) Broadway musicals, listening to big band music, traveling to exotic destinations and going on many cruise vacations. Maud had a creative side to her which shone through her knitting and painting. She enjoyed colourful jewelry and collecting Royal Dalton dolls.
She liked sipping sherry and the odd Fuzzy Navel now and then and her favourite "comfort foods" were chocolate and chips! She also enjoyed checking out the culinary scene in Edmonton through weekly visits to her favourite restaurants.
Maud was loving and generous, a great mom to Bill and Chris, she maintained her British sense of humour, and was a strong, courageous person.
Rest in peace Maud. With eternal thanks from your son's for everything you did to help us be who we are, for welcoming Anne and Julie into our family and for enjoying your grandchildren. You will be missed, but never forgotten.
Thank you to the staff at St-Thomas Health Center and Dr. Li for their care and support to Maud while she resided at St-Thomas for 8 yrs.
Celebration of Life
Wednesday May 24th, at 10:00 am
Trinity Funeral Home
10530 116 Street, Edmonton.
Memorial donations in memory of Maud can be made to Alzheimer Society of Alberta & NWT, 10531 Kingsway Avenue, Edmonton Alberta T5H 4K1
Phone - (780) 488-2266
http://www.alzheimer.ca/en/ab/About-us/alberta-offices/Edmonton