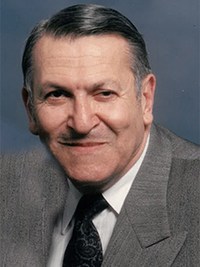 It is with heavy hearts that we announce the passing of our beloved Maurice Joseph Saad, born on January 20, 1932. Maurice passed away peacefully on May 8, 2021, with his wife and family by his side. We were fortunate to have Maurice with us for 89 years.
Maurice is lovingly remembered by his wife, Karima, and his four children: Joseph, Sami (Izabella), Renda (Frank) and John (Ekeen). He will also be deeply missed by his eight grandchildren: Julia, Anthony, François, Sabrina, Suzanne, Alexandra, Nicholas, and Avery. He was predeceased by his parents Joseph and Philomène, sister Helen, brothers Alphonse and François, and granddaughter Mary Anne.
Maurice was born in Jerusalem, Palestine. He was the last survivor of his immediate family, with many relatives continuing to live abroad throughout the world.
Maurice and Karima immigrated to Canada in 1967 to provide a more peaceful life for their children. Maurice worked in the travel business most of his life, owning multiple travel agencies in Alberta, Saskatchewan and Manitoba. Prior to living in Canada, Maurice worked as a tour guide in the travel industry, served in the US military and was even an ambassador to the Icelandic Consulate. He was a man of many talents and spoke numerous languages.
Maurice enjoyed cars, road trips, camping, fishing, and traveling in his motorhome with his wife Karima, children and grandchildren. Over the years, he amassed many pictures and shared many stories. He was always there to provide guidance and support to his family. His playfulness, generous nature, kind heart and glowing smile will be greatly missed.
Due to COVID-19 restrictions, a formal service will not be held.