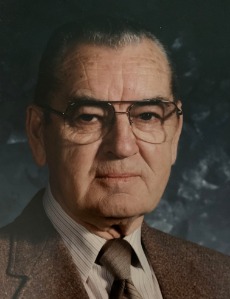 Maxwell Harold Kinney
February 18, 1931
-
December 29, 2022
On December 29, 2022, Maxwell Harold (Max) Kinney left this Earth to be reunited with his wife, Claudia.
Max was a great historian, a well-read gentleman, and a remarkable story teller. He was a lover of the great outdoors, with a fondness for the mountains and of Vancouver Island where he could 'see forever'. He loved fishing and hunting, tinkering and repairing, riding his bike and his Buick. Golfing with family and friends was a passion – he happily retold the story of his hole-in-one, and he loved teeing up the ball in the fairway, claiming that it was a senior privilege that he had earned. Max was a respected firefighter, retiring as Captain of Communications EFD in 1990. Sadly, it was Max's dearly loved role as a firefighter that ultimately contributed to his death.
He loved his children, his grandchildren, and his granddogs unconditionally. He was very proud that he lived long enough to also know and love his great grandchildren. He seemed immortal; his passing at 'almost 92' makes us realize that an era has ended, that we are not immortal, and that we must live each day as though it is our last. Dad taught us, in his last years, to find joy in small things, like the birds outside our window, and a good cup of coffee. His favorite poem was 'Desiderata': he loved its words and wisdoms – take time to read it, and think of him. "With all its sham, drudgery and broken dreams, it is still a beautiful world. Be cheerful. Strive to be happy." And the next time you visit Tim's, order a large coffee, two cream, one sugar, and remember Max. His children, Guy, Kevin, and Brenda with their families, will miss him greatly.
A private function will be held later this year for Max and Claudia, as they wished to be remembered together. Should you wish to memorialize Max, please consider a tribute to the Edmonton Firefighter Burn Treatment Society.