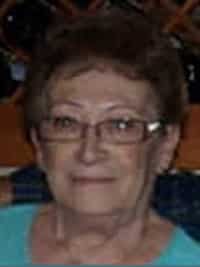 Merrilyn Caroline Kratzer
On July 3, 2018 Merrilyn Kratzer of Edmonton, Alberta, passed away at the age of 80.
Predeceased by her parents Bill and Tina and sister Irene, Merrilyn is survived by her loving husband Frank, sons Frank (Bev), Greg (Susan) and daughter Shelly (Hugo), grandchildren Courtney, Kaitlin (Colin), Jeff (Sarah), Kyle, Cody (Kate) great grandchildren Hunter, Georgia and Damien, stepmother Agnes and several nephews.
In lieu of flowers donations can be made to the Alberta Lung Association.
A Celebration of Life will be held Saturday, July 7, 2018 at 1:30 pm at the Northgate Lions Rec Centre,  7524- 139 Ave, Edmonton.