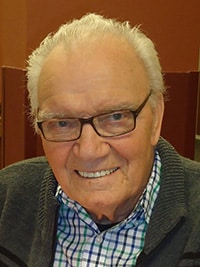 Meryl Elwin Shaw
Meryl Elwin Shaw, Age 85 lost his battle with Dementia Alzheimer's disease, surrounded by the love of family September 18, 2018. We find comfort knowing Dad is no longer a prisoner of this disease, and that he and mom Mary are together again.
He was preceded in death by his wife of 50 years Mary Shaw, siblings Calvin Shaw, Ruth Price, & Cecil Shaw, his parents Edward Victor Shaw and Elsie Viola Shaw, stepdaughter Sue Sherrer and son Wayne Shaw.
Meryl is survived by his siblings Elsie (Gene) Greanya, Ronald (Adeline) Shaw, & Irene Schaufele, his children Pamela Harry, Rosalie (Mike) Kierluk, Debbie (Tom) Morrissey, Melodie (Marvin) Fitzel, Elaine (James Vik) McInnes, Patricia (Ryan Andrew) Ewasiuk, Bill (Shirley) Glass, numerous grand and greatgrandchildren, nieces, nephews, and friends.
Meryl was Born on April 18, 1933 in Spiritwood Saskatchewan, where he grew into a dashing, kind, hardworking young man. Meryl married Sylvia Hill in 1955 they lived in Bashaw, AB. They started their family having Pam in 1956 in Lacombe AB, they moved to Edmonton AB area and continued their family, Rose in 1958, Deb in 1959 & Mel in 1962. Meryl was remarried to Mary in 1968, the family continued to grow with Mary's children Bill and Sue. Meryl and Mary had twins in 1969, Wayne and Elaine, and the baby of the family, Patricia was born in 1972.
Meryl was a gentle man, that worked hard, first as a farmhand and then as an apprentice Electrician. Meryl had only a grade eight education, as he left school to work at a young age. He did not let this deter him and put himself through school and became a Journeyman Electrician, which he worked as for many years following. When there was no longer work for electricians available, Meryl worked at Londonderry Mall, lead maintenance. Meryl was a jack of all trades, there was not much that he could not do, and he was always willing to help out family and friends with his skills. He was very much a perfectionist and this showed when he built Mary and his home in Leduc, out of a garage.
He had a passion for golf and curling spending many hours at the Jasper Place Curling Club, but there was no greater passion to him than his family, being with them always brought that beautiful smile to his face.
Celebration of Life
Monday October 1, 2018, 2:00PM
Trinity Funeral Home Chapel
10530 116 Street, Edmonton AB
Meryl will be lovingly remembered and deeply missed by his children, family & friends. In lieu of flowers, if Family and Friends wish, a Memorial donation in Meryl's honour may be made to the "Alzheimer Society of Alberta": online @ alzheimer.ca, by mail Alzheimer Society of Alberta and Northwest Territories
308, 14925 – 111 Avenue Edmonton, AB T5M 2P6