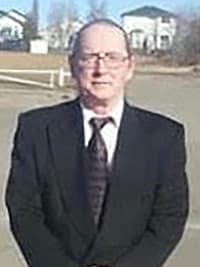 Michael Bruce Grouette
On September 2, 2018, Michael Bruce Grouette passed away suddenly.
He is predeceased by his son Kenneth Grouette, mother Myrtle Johnston, father Arnold Grouette, as well as his three brothers, Arnold Brian (Sonny), Stephen Blake, and Martin Hugh.
He leaves behind three sisters, Cynthia Lindemann (Rob), Corona Bickell (Garth), Patricia Grouette (Joe Swiderski) as well as many nieces, nephews and cousins.
Michael's interment will be at 2:00 pm on Friday, September 28, 2018 at Holy Cross Cemetery, 14611 Mark Messier Trail, Edmonton.