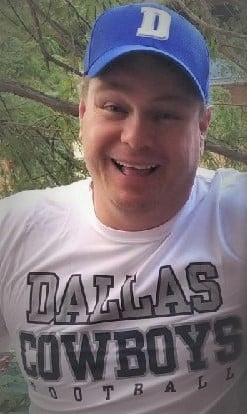 Michael Joseph Ferris
With broken hearts the family of Michael Joseph Ferris announces his death. He died peacefully surrounded by love on January 19th at the Royal Alexander Hospital in Edmonton Alberta at the age of 44.
Michael is survived by and will forever be remembered by his mother, Dolores Ferris; significant other Lacey Johnston, siblings, Kristine (Tim) Waugh, Andrea Ferris, Diane Ferris, and David (Michelle) Ferris. Nieces and nephews; Haley, Keith, Lauren, Marissa, Cameron, Kirk, Abigael, and Freya. Michael is preceded in death by his father Thomas Ferris.
Michael was born on January 9th, 1976 in Saint John New Brunswick to Tom and Dolores Ferris. He graduated from Simonds High School in 1995. Shortly after he moved to Edmonton Alberta where he held many jobs, his final position as a heavy machine operator at Canadian Natural Resources Ltd. (CNRL). Where he acquired many friends and built many relationships.
Michael shared his enthusiasm and love for life will all that knew him. Always ready to step and put on the apron as chef. Michael was a kind caring person, extremely generous and loved by many. He loved to be outside being with people. Kayaking, fishing, golfing, generally enjoying life.
He loved heavy metal concerts, bon fires and drinking beer. He loved spending time with his "Edmonton Parents" Peter and Gloria and the clan. Above all he loved his Dog "Doug the Pug" and the Dallas Cowboys. Michael will always be forever close in our memories.
A mass of Christian Burial will be celebrated Monday, January 27, 11:00 am St. Joseph's Catholic Church, 4347 Loch Lomond road, Saint John with a reception to follow at St. Joseph's H.O.P.E Center. Interment will take place at St. Joseph's Cemetery at a later date. Reverend Ralph McRae will Officiate.
All are welcome to attend and celebrate Michael's life. In lieu of flowers, please send donations to Canadian Cancer society.